Shoe Repair Shop in Traverse City, MI
Leathers by David handles complete leather repairs for boots and shoes, motorcycle gear, purses, wallets and much more. We also sell a wide selection of genuine leather goods, as well as raw leather by the square foot. We aspire to be the primary stop for all of your leather needs, with quality craftsmanship and a superior selection that can't be matched. Visit our shoe store today!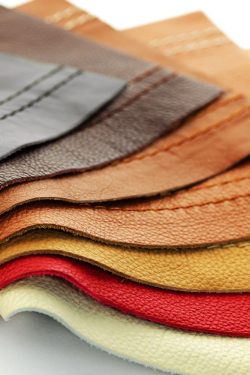 Leather Goods, Repairs, & More
Don't let your leather crack, flake or fade! Make sure it's getting the best care possible and bring it to Leathers by David when it starts to show its flaws. Whether it's a beloved leather jacket or you need your work boots re-soled, our leather and shoe repair shop in Traverse City, MI promises to have your leather looking great again soon.
As masters of leather, we're able to recondition, repair and retexturize your leather, as well as repair any other damaged parts. For boots and shoes, we can retread and re-sole work boots and riding boots, and even repair leather uppers to restore them to a like-new condition. Or, if it's time to trade in your boots, we're the shoe store in Traverse City, MI to start your search for a great new pair! We have the largest local selection of Red Wing and Irish Setter boots, among others.
We carry some of the best brand-name leather goods, including the largest selection of Red Wing Boots in the area.
Our motorcycle gear selection includes everything you need to ride safely and in-style, including gloves and boots.
We're able to repair almost any leather item you bring us. We specialize in boots and shoes, and we can re-sole and completely repair work boots, riding boots and more.
We perform repairs in-hours. Rest assured we're the only ones handling your leather goods and that we're responsible for all repairs.
Our products are all made with genuine leather and we have experience working with authentic leather, so you can rest assured your quality goods are in experienced hands.
Just love the appeal of leather? So do we!
That's why our shoe store is chock-full of leather goods in Traverse City, MI. From purses to wallets, gloves to motorcycle gear, we have leather options for both men and women. We'll be happy to help you find a leather product that fits your style and your budget.
If you need leather fixed or want to make sure you're getting the very best in genuine leather goods from a quality provider, visit Leathers by David today. Our shoe repair shop promises you'll take home the finest leather—whether it's something you already own that's been reconditioned or something new you'll cherish for years to come.
Choose the Leather Experts
Need your work boots re-soled? Looking for your next piece of motorcycle gear? Find the leather products and experienced repair services you need at Leathers by David.
Proud to provide boot sales and repairs to Traverse City, MI, the following areas, and more:
Acme, MI
Williamsburg, MI
Elk Rapids, MI
Rapid City, MI
Old Mission, MI
Mayfield, MI
Suttons Bay, MI
Yuba, MI
Cedar, MI
Kewadin, MI
Grawn, MI
Grand Traverse County, MI
Garfield Township, MI
Kalkaska County, MI
Leelanau County, MI
Benzie County, MI
Wexford County, MI
Charlevoix County, MI
Manistee County, MI
Otsego County, MI